Ambition for Schools
At AMBITION TAEKWONDO, part of our mission is to be good role models in our communities. We strive to bring the Tenets of Taekwondo – Courtesy, Integrity, Perseverance, Self-Control and Indomitable Spirit – to work in our everyday lives. We are excited to be able to help our local schools by offering these FREE PROGRAMS.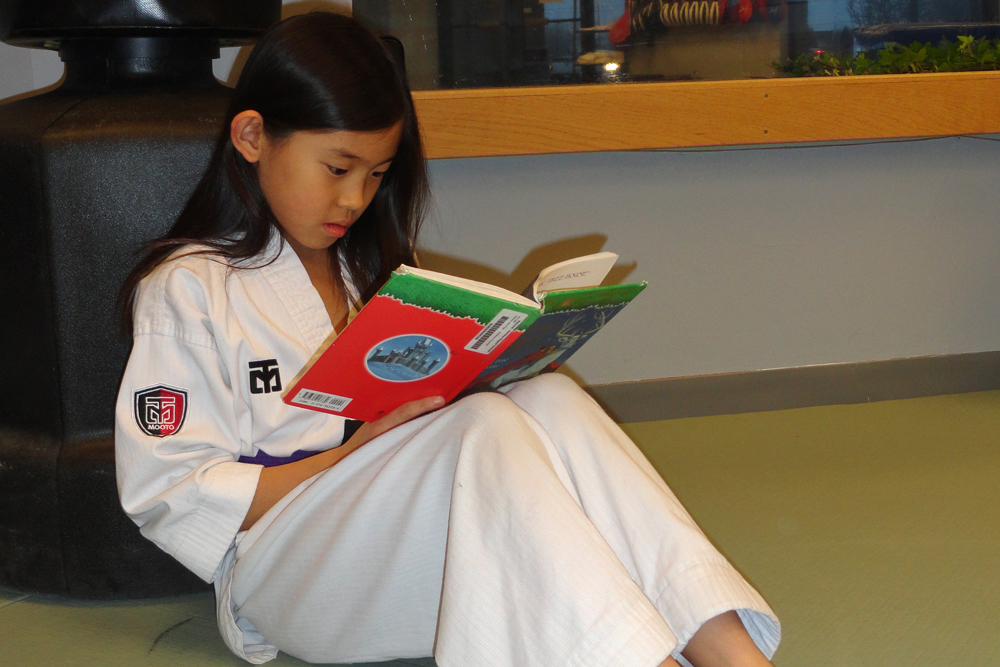 How Can Ambition Help Our School, Church Group, or Scout Troop?
CLASSES AND ASSEMBLIES:
Gym Classes: Introduce your students to something new! Master Ricardo will teach a full hour gym class for a small or large group. Classes will do some of the warm up and strength training exercises we do at our own gym, learn a few basic Taekwondo kicks and techniques, and play a martial arts game. Master Ricardo will talk about the Tenets of Taekwondo, and when it is appropriate to use the techniques.
Assemblies: Ambition Taekwondo can be part of your school assembly centered around fitness, health, bully prevention, self-confidence, etc. Master Ricardo and his students will do a short demonstration of kicking and board/brick breaking to fit in with your school's theme.
SELF-DEFENSE SEMINARS:
Bully Prevention: Let Ambition Taekwondo help with your school's anti-bullying plan. Master Ricardo will talk to students about ways to handle a bully without fighting, and also teach some basic self-defense techniques to develop students' confidence. Seminars can be held during school hours or on weekends, for large or small groups. Women's Self-Defense: These practical seminars are appropriate for female staff/faculty, and female students ages 12-up. Learn ways to keep yourself from being vulnerable to an attack, and practice some basic self-defense and confidence building.
FUNDRAISING:
Parents' Day/Night Out: Raise money for your school by holding an in-school event. Parents donate (suggested $5 or $10) to drop off their child for 3 hours of games, martial arts class, obstacle courses and fun, all led by Master Ricardo and his student volunteers. An easy-to-plan, low-effort fundraiser for the school that parents will love.
Break-A-Thon: Students get friends and family to sponsor them to break real wood boards. For each $5 pledged, the students get to break one wood board. (Students use a foot stomp or side kick; older students and adults may learn hand breaking techniques or more advanced kicks.) Students collect pledges as a fundraiser for the school, and break the boards at a scheduled event (party, assembly or carnival) with the help of Master Ricardo.
Carnival Booth: Ambition Taekwondo will put on a booth at your school's fundraiser carnival, where participants can learn some basic taekwondo kicks and try to break a board.
BREAK INTO READING:
This unique program rewards students for reading. At the program kick-off, Master Ricardo will come to the school and do some board breaking demos and talk about applying the Tenets of Taekwondo to schoolwork. For each 100 books students read collectively over the coming months, they add one brick to Master Ricardo's stack. The students challenge Master Ricardo to see if they can read so many books that he cannot break all the bricks. At the end of the program, Master Ricardo will come back for a celebration and present a brick breaking demo with the number of bricks they have achieved.
Contact us to bring Ambition to your school!
MASTER RICARDO AGUILERA is a 4th Degree Black Belt and Kukkiwon Certified World Master. He is a former member of the US National Taekwondo Team. He has been doing Taekwondo for 25 years and teaching since the early '90s. He has 3 young children and lives in Eagan.